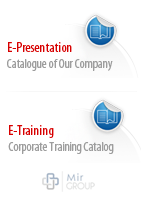 About Us
Mir GROUP, started its activities with Management Consulting and widened its activity field as follows in a short while upon customer demand and national conditions:
Management Consulting, Construction And Contracting, Building and Facility Management, Tourism, Logistics, Mining, Defense İndustry, Medical, Energy, Outsourcing

Mir GROUP, focused on increasing priorities of Turkey in the global business environment and aimed at providing competition advantage for customers with methods that create difference in its operating sectors.
News & Announcements
Mir ACADEMY, Mir GROUP içerisinde eğitim yönetimi alanında faaliyetlerini sürdürmektedir.

Mir ACADEMY bu paralelde Türk İş Dünyasının gelişen ihtiyaçlarına, ülkemizin önde gelen köklü üniversiteleri olan;

İstanbul Teknik Üniversitesi,
İstanbul Üniversitesi,
Marmara Üniversitesi,
Mimar Sinan Üniversitesi 'nin değerli akademik kadrolarının katkılarıyla çözümler üretmeyi misyon olarak benimsemiştir.